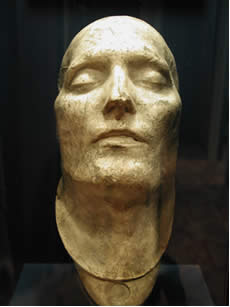 On May 5, 1821, on St. Helena, a small island located in the Atlantic 1,400 miles off the coast of west Africa, Napoleon Bonaparte died at the age of 52. Exiled there for life after his defeat at the battle of Waterloo, his death was witnessed by both English and French doctors, including Dr. Francesco Antommarchi, Napoleon's personal physician.
As was customary upon the passing of a great leader, a death mask or mould of Napoleon's face was made by British surgeon Francis Burton of Britain's Sixty-Sixth Regiment at St. Helena, who presided at the autopsy, by placing a mixture of wax or plaster over the emperor's face and removing it once it had hardened.
Antommarchi obtained from his English colleagues a secondary plaster mould from Burton's original cast. Returning to France in 1824, he convinced the Royal French Mint to re-create three identical bronze castings of Napoleon's death mask. In his own description of the death mask, Antommarchi remarked that Napoleon's face appears "relaxed" (recalling that the original cast of the mask was made forty hours after the emperor's death), but he added that "the mask was correct so far as the shape of the forehead and nose was concerned."
Faced with a hostile political environment, he decided in 1834 to immigrate to New Orleans, where further disagreements between Royalists, Republicans and Napoleon loyalists forced him to move on, and he eventually settled in 1837 in Santiago de Cuba where there was a large settlement of French immigrants from Haiti, including some high-ranking officers from Napoleon's Imperial Army.
Only four months after arriving on the island, however, Antommarchi died of yellow fever aged 57. He was buried with military honors and today rests in the Santa Ifigenia cemetery in Santiago de Cuba.
Today, Antommarchi's personal copy of Napoleon's death mask can be found in the Museo Napoleonico in Havana Cuba. Further examples can be found in the National Maritime Museum in Greenwich, the Army Museum in Paris, the University of North Carolina and the Louisiana State Museum.

In The Gilded Seal, the discovery of one of Napoleon's death masks leads Tom to the Napoleon Museum in Havana, Cuba.