The Getty Kouros, supposedly from the sixth century BC, was bought by the Getty from a Swiss dealer in 1983 for a reported $7-9 million and first exhibited there in 1986.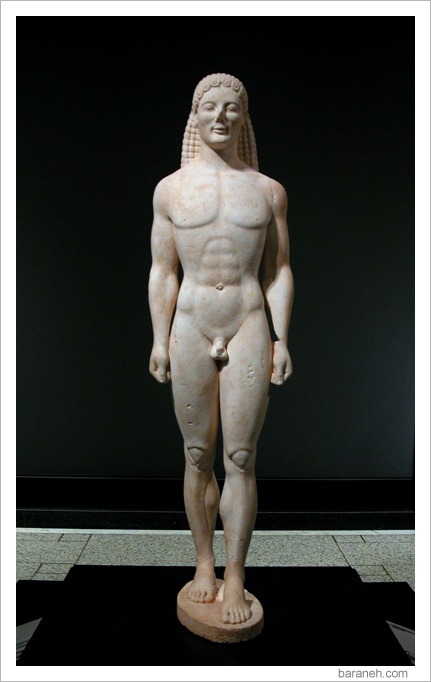 A kouros is a statue of a standing nude youth that did not represent any one individual person, but the ideal of youth itself. Used in Archaic Greece as both a dedication to the gods in sanctuaries and as a grave monument, the standard kouros stood with his left foot forward, arms at his sides, looking straight ahead.
The Getty Kouros has always attracted controversy, for while scientific tests have shown that the patina on the surface is highly unlikely to have been created artificially, the statue's highly eclectic style, mixture of earlier and later stylistic features, and the use of marble from the island of Thassos at an unexpected date, have caused some to doubt its authenticity. Anachronistic elements are not unknown in authentic kouroi, but the disparity of up to a century is a strikingly unusual feature of the Getty sculpture.
These doubts were compounded when several of the other pieces bought with the kouros were shown to be forgeries, and when a letter accompanying it, supposedly written by German scholar Ernst Langlotz in 1952 indicating that the kouros came from a Swiss collection, was also revealed as a forgery, since it bore a postal code that only came into use in the 1970s.
In 1992, the kouros was displayed in Athens, Greece, at an international conference called to determine its authenticity. However, the conference failed to resolve the issue, with most art historians and archaeologists denouncing it, and the scientific community believing it to be authentic. To this day, the statue's authenticity remains unresolved and it is displayed with the inscription: 'Greek, 530 BC, or modern forgery.'
If genuine, it is one of only twelve complete kouroi still extant.