Welcome to the official website of best selling author James Twining
James was not one of these people who grew up desperate to be a writer. In fact when he wrote his first book, The Double Eagle, in 2004, it was the first time he had attempted to write any fiction since a Third Form poetry competition! That said, when he was clearing out his parents' garage a few years ago, he came across a couple of old notebooks crammed with random plot and character ideas. He didn't remember writing any of it, but perhaps some small corner of his brain wanted to be an author all along. It just took a while for the rest of him to catch up.
The Double Eagle, the first of his novels to feature art thief Tom Kirk, was first published in 2005 and has sold over 160,000 copies in the UK alone and been translated into nearly twenty languages. It's sequel, The Black Sun , was published in April 2006 and has also been an international bestseller. The third Tom Kirk novel, The Gilded Seal, was published in October 2007 with the fourth in the series, The Geneva Deception, published in October 2009 in the UK, and July 2010 in the USA.
"The Books of James Twining" … on Mastermind!!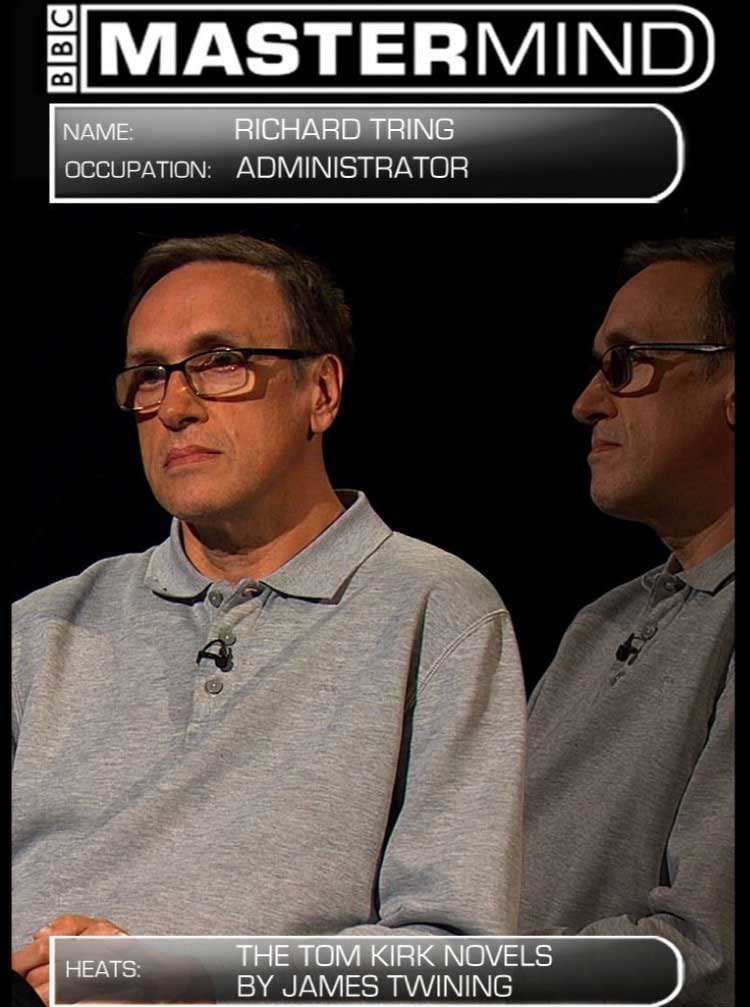 To quote Wikipedia, Mastermind is "a British Quiz show well known for its challenging questions, intimidating setting and air of seriousnesss."
As well as a general knowledge round, contestants have to answer questions on a specialist subject of their choosing. Typical topics include "The Life of Martin Luther King", "Post Socratic Philosophy" and The Operas of Gilbert and Sullivan.
And now a new edition to the Mastermind cannon – "The Tom Kirk novels by James Twining".
I can tell you that there is something a little surreal to sitting down to watch one of your favourite shows and then, with no prior warning, discovering that it is about your own books. One less thing to tick off my bucket list certainly!
Congratulations to Richard Tring, who made his way all the way to the final. And yes, before you ask, he did get more right than me. Twelve points to my ten! I my need to mug up a little next time…