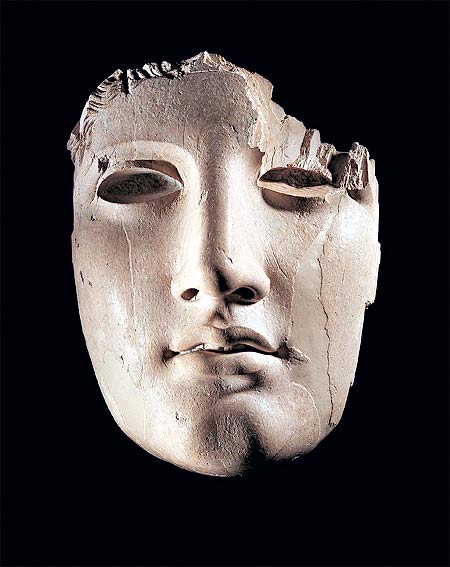 The Apollo ivory mask is one of the world's rarest and most important looted antiquities. A unique life-size ivory head of Apollo, the Greek god of the sun, it is from a fifth century BC chryselephantine statue.
Many experts believe that it was carved by the classical sculptor Phidias, considered to have perhaps been the greatest of all Ancient Greek sculptors. Responsible for many of the marble reliefs on the Parthenon, Phidias also carved two legendary chryselephantine (Greek for gold and ivory) statues: the Athene Parthenos and the statue of Zeus at Olympia, one of the seven wonders of the ancient world, which was taken to Constantinople and destroyed in a palace fire in AD 475.
The mask was originally discovered in 1995 by notorious tombarolo (tomb robber) Pietro Casasanta [see here] near the remains of the Baths of Claudius, north of Rome. Chryselephantine statues were built around a wooden frame, with thin carved slabs of ivory attached to it to represent the skin and sheets of gold leaf for the garments, armour, hair, and other details. Such statues were incredibly rare, even in ancient times, and historians believe that all seventy-four of Rome's chryselephantine statues vanished when it was sacked by Alaric, chief of the barbarian Visigoths, in AD 410.
Although dozens of fragments are known to have survived, only one other life-size figure has been found in Italy (now in the Apostolic Library in the Vatican). A badly fire-damaged set of statues of Apollo and Artemis can also be seen at the Archaeological Museum at Delphi.
The mask was seized from the London antiquities dealer Robin Symes in 2003, after he was presented with evidence that the statue had been illegally excavated and smuggled out of Italy. One of the world's best-known and most successful antiquities dealers, Symes has been accused of being the main dealer in Giacomo Medici's criminal network, selling looted antiquities from Robert Hecht Jr. and Medici to many renowned Western museums, including the J. Paul Getty Museum, whose curator Marion True has since been indicted for illegal trafficking of antiquities.
This wasn't Symes' first brush with controversy.  In the early 1990s he sold a statue of the Greek god Artemis to an American collector who, when he attempted to sell it on openly through Sotheby's in New York, found that the sculpture had been stolen in 1988 from a convent near Naples. After a complaint from the Italian government, it was returned to Italy. Then in 1997, as part of an exposé of Sotheby's in which it was shown that the auction house was selling smuggled goods, it was also revealed that Symes had, in conjunction with the salesroom, arranged for an Egyptian statue of the god Sekhmet to be smuggled out of Italy, to London, via Switzerland.
Symes was eventually sentenced to two years in prison in January 2005 for contempt of court. This was as a result of a dispute between Symes and the family of his late partner Christo Michaelides, son and heir of the Papadimitriou shipping family, over the ownership of Michaelides' assets. Dimitri Papadimitriou spent millions to prove his family's claim to half of Symes' business, in the process showing that Symes had deliberately lied to the court on several occasions and pushing him into bankruptcy. [more]
The Apollo ivory mask is currently the star attraction at an exhibition of looted artefacts that have been returned to Italy at the Quirinale Palace in Rome.