The Nativity with St Francis and St Lawrence (also known as The Adoration) was painted by the Italian master Michelangelo Merisi da Caravaggio in 1609 during his self-imposed exile from Rome after killing a man in a duel, and subsequent escape from prison in Malta.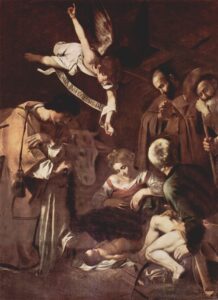 Caravaggio's last large-scale complex painting, it shows an exhausted Mary clutching her stomach and gazing in shock at the infant lying ate her feet while an angel vaults gymnastically overhead. Never one to follow convention, Caravaggio subverts the scene by placing an unnamed youth in the foreground who, with his back to the viewer and his shoe touching the newy born Messiah, is twisting to face the aged Joseph with obvious disbelief.
The five square metre (106 in × 78 in) oil on canvas work was stolen from the Oratory of San Lorenzo in Palermo, Sicily on 16th October 1969. Working under the cover of darkness, the thieves cut the work from its frame with razor blades and escaped in a three wheeled delivery van.
In 1996, Francesco Marino Mannoia, an informant and former member of the Sicilian mafia, claimed he had stolen the painting as a young man. It was, he said, a theft on commission for a high-ranking mobster, but carried out so clumsily that the painting on the huge and crudely folded canvas was irreparably damaged.
Other sources, however, have pointed the finger at amateurs who acted after seeing a TV programme on Italy's hidden treasures a few weeks before. Amazed at its value and knowing that it was guarded only by an elderly janitor, they stole it and then quickly passed it on to the local Sicilian mafia when they realised that they had operated on mafia turf without the permission of the Cosa Nostra.
After this, it is said to have ended up in the hands of Palermo boss Rosario Riccobono (throttled in 1982 at a barbecue lunch organised for that purpose by the Corleonesi family) before passing on to Gerlando 'The Rug' Alberti, commander of the Porta Nuova district in Palermo.
Other rumours that the work was damaged in the theft or even destroyed in an earthquake in 1980 have also circulated from time to time, as have stories of supposed sightings abroad.
Today, however, the Nativity remains one of the most famous unrecovered stolen paintings in the world. It is listed by the FBI as one of its top ten art crimes and they have estimated its value at $20 million, although the likely auction value is far, far greater.